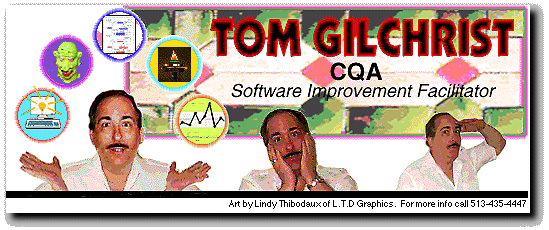 Please note: My "stable" email has changed to

tomg@tomgtomg.com







Well, you finally made it to SOFTE (SOFTware Engineering), the home page of Tom Gilchrist, CSQA, CSQE.. Here you'll find methods, tools, and techniques for improvement, especially organizational improvement, or what I call Organizational Professionalism. While the focus is on software, many of the items found here are not software specific. Since I live and work in the Seattle area, I have a special interest in things that go on here in this area. My goal is to have as much original information in SOFTE as possible. Feel free to send your comments, suggestions, and information...expect all to be read and some to be ignored!
---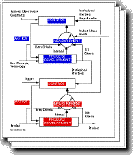 Tom's Papers, Presentations, and Recommendations
This section contains information written by myself on the topics of organizational professionalism, improvement, and general software engineering. I have also included a list of books and tools I have found valuable:
---
---

Software Engineering Resources and Information
This is information about software engineering. It is not meant to be complete, but these are areas I have found to be of value in my work.:
---

Places to go, people to see, stuff to buy...
Great places to go for inspiration and meditation when things get crazy in the tar pit:
---

SOFTE home page version 08/13/09 13:15 by Tom Gilchrist, CSQE, CSQA. For updates, suggestions, and corrections, please contact tomg@tomgtomg.com . The opinions and views expressed in SOFTE are my own and do not reflect the views of my employers (I'd be a little surprised if they did). There is no financial connection with the products and services mentioned in SOFTE unless otherwise indicated.